---
0:01 AM
Non Human Persons + Homosapiens = Slaughter
We will undoubtedly destroy the planet. It is inevitable. Don't get me wrong, I do not want to see it happen, but we have not progressed at all. Yes you are right, technology has and so has food production. One deed that will never change is that the world is full of male homosapiens loving the kill, loving the dominance and will breed more to regress again.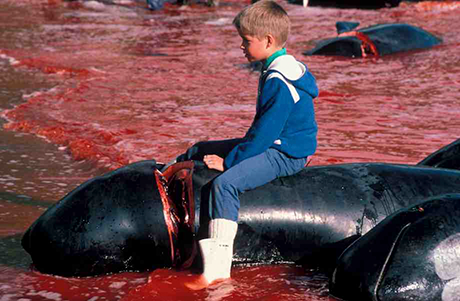 Take the Faroe Islands. A place I will never go. It does not belong to Denmark and I noticed recently that Denmark has distanced itself from these 'traditionalists'
Please only watch the video below if you feel strong enough to see what these 'men' can do to more emotionally intellelectual non human persons. See how they thrill at the job, see how their offspring think '
yes I want to be like you one day Daddy'
. Then think about the excessive consumption of
high levels of mercury, PCBs and environmental poisons that these poor non human persons contain. Then have joy in your heart thinking about the deterioration of these islanders as they gradually will succumb to their slow dribbling deaths.
A 'rite of passage' and spectator sport. It is a cauldron of evil...on every level.
'The butchery is neither painless nor silent. Dolphins scream out, sounding very much like a human child, as they are sliced and hacked apart while still alive and conscious'
Category:
News
|
Views:
1372
|
|
|